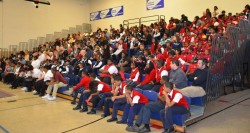 Perdidos en la cobertura negativa de la violencia urbana de los principales medios de comunicación se encuentran los más impactados por la epidemia: la juventud. Sin embargo, el activismo comunitario se compromete a remodelar la conversación nacional creando plataformas positivas para que las resonantes voces de los jóvenes sean escuchadas.
El pasado sábado, estudiantes de secundaria y escuelas medias de Chicago, junto con padres y líderes cívicos, se reunieron en Holy Family Ministries Center en el barrio de North Lawndale para participar en "Transformando el Dolor en Poder" un día en la alcaldía exhortando a los jóvenes a convertirse en agentes del cambio positivo en sus comunidades.
Presentación de Peace Exchange: Chicago – Asia 2013, la conferencia presentó un debate nacional de panel de prominentes líderes cívicos, las actuaciones de artistas locales populares y talleres educativos. La rapista local y directora de comunicaciones de Peace Exchange, Jessica Disu, conocida también por su nombre artístico FM Supreme, presentó la paz y justicia renovadora temática.
La Reverenda Joan R. Harrell de Trinity United Church of Christ de Washington Heights abrió "Transformando el Dolor en Poder", con una oración titulada "The Youth Peace Prayer" [La Oración de Paz del Joven], escrita por el Rev. Dr. Otis Moss III. Esto sentó las bases para un día de atención y reflexión.
El debate del panel despertó un diálogo vivaz y constructivo en el gimnasio convertido en auditorio, mientras la multitud escuchaba.
Estuvieron presentes Jamira Burley, directora ejecutiva de Philadelphia Youth Commission, Dennis Johnson, estudiante de Chicago State University y abogado de la paz, Dr. Ozella R. Barnes, director de A Safe Place, Joy McCormack de Chicago Citizens for Peace, Henry Cervantes de The Peace Exchange y Jahlil Porter, estudiante de la Secundaria Little Black Pearl.
Estos voceros representaron un fondo diverso de vida real y conocimiento académico que proyectaron una perspicacia crucial.
Durante la discusión, el Dr. Barnes dijo que la juventud está en crisis. "Lo que más me duele es que el valor de la vida ha disminuído", dijo Barnes. "Llaman a un joven de 21 años O.G…. personas heridas hieren a los demás".
Después de la trágica muerte de su hijo en el 2009, Joyce McCormack identificó la gran necesidad de apoyo familiar a las víctimas. "El reto es que somos las voces no escuchadas", dijo McCormack. "….[pero] cuando los niños empiezan a escuchar la realidad de la violencia…. Piensan diferente…. Se convierte en realidad".
La dura realidad de esas vidas perdidas llevó solemnidad al lugar, pero forzó a los traumatizados por la violencia a pensar dos veces su ira, su frustración y su dolor para transformarlo en una acción positiva y restauradora.
Entre el debate y los talleres, artistas locales interpretaron para levantar el ánimo o entretener. El L.Y.R.I.C. Squad, grupo de palabra y tutoría, dramatizó sus luchas personales con presiones de salud mental de amigos, familiares e instituciones. La gravedad emocional, la honestidad y el patetismo de sus historias transfiguró a la gente.
Otros artistas ofrecieron algo más alegre y lleno de energía. Incluyeron el fuego del grupo de danza Chicago FootworKinz y los conocidos raperos SICKO MOBB.
Aunque la lucha de la ciudad contra el crimen continúa en la batalla, los pilares de la diplomacia y el compromiso con la juventud del movimiento de paz de Chicago se espera haya inspirado a los jóvenes estudiantes.
"La respuesta está en nuestros jóvenes", dijo Barnes.