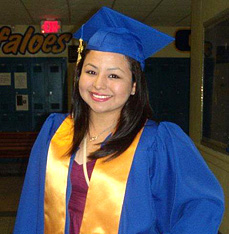 The phone service company has just announced its 2014 AT&T Aspire High School Success Initiative Request for Proposal that seeks to fund community organizations and schools who've demonstrated success in keeping students in the classroom.
"We're looking for programs that can prove they are solving problems and changing lives," said AT&T Vice President of Sustainability and Philanthropy Beth Shiroishi said. "And by supporting organizations that use evidence to demonstrate success, we can know what programs work best in certain situations, how they work, and how they can be scaled to benefit other students."
AT&T supports community organizations who address the key issues in the education system. Currently only one in five students does not graduate with their peers and those who do still are not fully prepared for the rigors of college and work life. Yet there is still promise.
The United States is for the first time on track to meet the 90 percent national graduation goal by 2020 set by the Grad Nation Campaign. This shared goal seeks to engage low-income and minority students whose graduation rates are lower.
The RFP is part of AT&T Aspire, one of the nation's largest corporate initiatives dedicated to helping students graduate from high school and achieve in their post-secondary careers. Since its beginnings in 2008, AT&T Aspire has impacted more than 1 million students and has committed over $350 million in funds through 2016.
Last year's RFP committed nearly $10 million to 47 schools and non-profits who've proven their success in increasing graduation and attendance rates and have reduced behavioral and disciplinary problems. Contributions will range up to $1 million for programs operating in multiple communities and up to $300,000 for single-community programs.
The RFP's Pre-Qualification Survey will begin on January 2 and remain open until January 17. An independent third party will review and evaluate all organizations that complete the survey, and those proceeding to the next stage will be invited to submit a full proposal.
For more information on the RFP, go to www.AspireRFP.com.