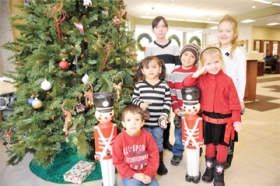 This Christmas, the Community Savings Bank in Chicago encourages kids ages 14 and under to help adorn the bank's tree with ornaments.
Interested kids can come to Community Savings Bank, located at 4801 W. Belmont Avenue, the intersection between Cicero and Belmont. There, they can pick up an ornament and decorate it at home with friends and family. When he or she returns the ornament by Dec. 24, their ornaments will hang on the evergreen's branches.
"We proudly display our tree in the main lobby. We encourage kids to be creative and put on their thinking caps this holiday season," Community Outreach officer Marisol Gaytan said.
All kids who contribute to this holiday festivity will receive a thank you gift bag courtesy of Community Savings Bank.
Community Savings Bank is a member of the FDIC and is an equal housing lender. The bank is located at 4801 W. Belmont Avenue, Chicago 60641. Telephone: 773-685-5300. For more information, visit www.communitysavingsbank.com.