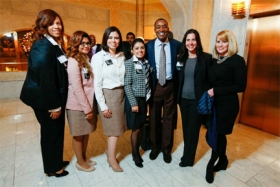 Last Wednesday, One Million Degrees (OMD) held its fourth annual Suited for Success kick-off event at the Rookery Building in downtown Chicago. In partnership with the retailer Brooks Brothers, OMD provides high-quality professional business wear to low-income community college students preparing to enter the workforce.
Brooks Brothers and OMD gave 59 OMD scholars new business attire and organized wardrobe workshops for these scholars. Brooks Brothers offered complimentary cocktails and hors d'oeuvres, and guests enjoyed a 15% savings on Brooks Brothers purchases made during the event. Ten percent of the evening's net sales will be donated to One Million Degrees.
"Social responsibility is the hallmark of a successful company and Brooks Brothers is thrilled to support the scholars of One Million Degrees," said Vice President of Brooks Brothers Golden Fleece Foundation Emilie Antonetti said.
Prominent executives and community leaders from Chicago attended the Suited for Success event, including NBA Hall-of-Famer Isiah Thomas and Latina fashion designer Maria Pinto.
"I am deeply committed to creating a safer, healthier, and more educated Chicago for all residents, and I commend One Million Degrees for their work in supporting this goal," Thomas said.
"I have had the opportunity to mentor a young One Million Degrees Scholar interested in fashion and business, and I'm very impressed by this program," said Pinto said. "As a business owner, I understand the importance of resilience, work ethic, and tenacity, and I commend the scholars of One Million Degrees who are pursuing their education in the face of numerous competing responsibilities and challenges."
One Million Degrees creates opportunities for hard-working, low-income community college students through educational resources and professional development inside and outside the classroom. For more information on OMD, visit www.onemilliondegrees.org.