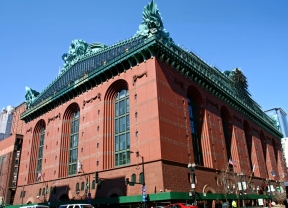 A new study conducted by the University of Dusseldorf in Germany recently ranked the Chicago Public Library as the number one public library in the United States and the number three library in the world, ahead of world class cities such as Shanghai (5th), New York (9th) and London (30th).
"Libraries serve as economic and social anchors in our communities, which is why it is so important to invest in these neighborhood hubs," Mayor Rahm Emanuel said.
Conducted by the University of Dusseldorf in Germany, the study surveyed the core public services of libraries across the globe and assigned rankings based on the areas of creativity, knowledge, quality of life, technology and urbanism.
"This report adds to the volume of research recognizing the leading global role that Chicago Public Library has taken in leveraging technology to enhance library services and underscores the fact that Chicago is recognized internationally as a world-class City," Mayor Emanuel added.
The Chicago Public Library is comprised of the Harold Washington Library Center, two regional libraries and more than 70 neighborhood branches.