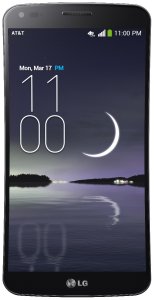 AT&T recently announced the release of its first smartphone with a curved screen, the LG G Flex, will be available in the US for pre-order both online or at AT&T retailers starting Jan. 24.
The LG G Flex is priced at $299.99 with a two-year agreement. Customers also have the option of paying $26.74 per month with AT&T Next 18 or $34.75 per month with AT&T Next 12.
"We offer smartphones and devices to fit every lifestyle. There's nothing quite like the LG G Flex to enhance viewing video and images," AT&T's Senior Vice President-Devices Jeff Bradley said. "The unique design is great when using your thumbs to type a message and at the same time, delivers a great experience for video enthusiasts."
The LG G Flex also features QuickTheater™, which lets you quickly access photos, videos and YouTube from the lock screen with a simple dragging gesture. The Dual Window splits the 6-inch screen into two separate applications. You can drag and drop information, such as articles and links between windows for easier multi-tasking.
Additional key features include:
• Processor: 2.26 GHz Qualcomm® Snapdragon™ 800 processor with quad-core Krait CPU
• Display: 6-inch, (1280×720), HD OLED screen (Real RGB)
• Memory: 2GB RAM and up to 32 GB onboard memory
• Camera: 13MP rear-facing, 2.1 MP front-facing
• Curved Battery: 3,500 mAh (Embedded)
• Operating System: Android Jelly Bean 4.2.2
• Size: 160.5 x 81.6 x 8.3mm
• Weight: 177g
For a preview of the LG G Flex, go to www.youtube.com/watch?v=kkItAYd5Lmw. For more information, please visit: www.att.com/gflex.