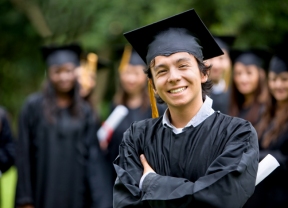 Los Colegios de la Ciudad de Chicago anunciaron el miércoles que el índice de graduación de las escuelas casi se ha duplicado desde el comienzo de la Iniciativa de Reinvención en el 2010.
El número de graduados de los Colegios de la Ciudad pasaron la marca de 10,000 por primera vez en el año fiscal 2013, marcando dos años más allá de las expectativas de más del 20 por ciento de aumento.
El anuncio llegó con la publicación de la Tarjeta de Puntuación Reinvención, detallando el progreso desde el término y la retención del estudiante hasta finanzas y operaciones.
"Nuestra estrategia de Reinvención trata de reconstruir el sistema de colegios comunitarios y transformarlos en instituciones educativas que garanticen el éxito de nuestros estudiantes con un compromiso de responsabilidad y transparencia", dijo la Canciller de los Colegios de la Ciudad de Chicago, Cheryl L. Hyman.
Por medio de College to Careers, iniciativa lanzada por el Alcalde Emanuel y el Canciller Hyman en diciembre del 2011, los Colegios de la Ciudad buscan alinear mejor el currículo ocupacional con la demanda de la fuerza laboral, en industrias que crearán el 80 por ciento de los trabajos de Chicago en la próxima década.
"Fijando y alcanzando estas metas – la graduación de estudiantes a un índice récord, aumentando el número de credenciales otorgadas y lanzando nuestros programas College to Careers – estamos presentando mejores resultados para los estudiantes que se preparan a ir al colegio y proseguir una carrera", dijo la Canciller Hyman.
Más información sobre las iniciativas Reinvención de los Colegios de la Ciudad y College to Careers en www.ccc.edu.