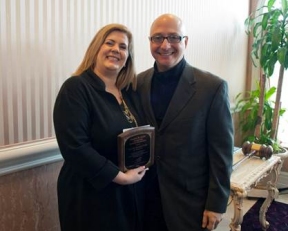 Located at 6727 W Roosevelt Road Autre Monde Café & Spirits, was honored with the George W. Ashby Award for Business Excellence at the Berwyn Development Corporation's (BDC) Annual Meeting on January 8, 2014.
Opened in 2011, this pan-Mediterranean restaurant and bar was an adaptive re-use of a vacant storefront into a new destination restaurant. Autre Monde recreates the atmosphere of a European wine bar and draws inspirations from the flavors of Italy, Spain, Portugal, France, Greece and Morocco for its seasonal menus.
Autre Monde's award is one of the latest accolades the Berwyn restaurant has received. It is also the first Berwyn Business to be selected as a Michelin Guide Bib Gourmand and the first independent Green Seal Certified business in Berwyn.
The George W. Ashby Award for Business Excellence is a local honor named after one of Berwyn's distinguished early architects. Mr. Ashby was responsible for the design of elementary schools in Berwyn as well as J. Sterling Morton High School.
The award is given annually to one Berwyn-based business that presents a professional and favorable image of Berwyn, provides quality goods or services, maintains a visually appealing space, and practices high quality customer service to its patrons.
A total of eight businesses were nominated for the award, including Autre Monde Café & Spirits, Bryan Davids Landscaping, Classic Touch Hair Designers, Connie's Family Restaurant & Cocktails, La Lupita Restaurant, Safelite AutoGlass®, Berwyn's Violet Flower Shop and World's Largest Laundromat.