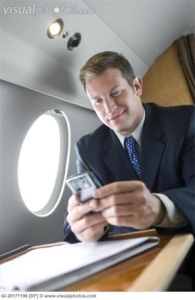 Business Traveler (BT) magazine announced Friday that AT&T was selected as the "Best Global Phone/Data Provider" in 2013's Best in Business Travel Awards based on BT's annual survey.
The survey asked readers to vote for companies that have made their business travel easier and more efficient. This is the second consecutive year that AT&T has been named in the survey.
"We are honored that Business Traveler readers recognize our ongoing commitment to provide our customers with a best-in-class mobile experience when traveling abroad," International AT&T Mobility and Consumer Markets Executive Vice President Bill Hague said.
AT&T delivers the following benefits to global travelers:
• Broad international voice and data coverage
• Access to 4G LTE Speeds
• Voice and data coverage on more than 250 major cruise ships, including Carnival, Royal Caribbean, Norwegian, Disney and Celebrity Cruise Lines.
• Extensive portfolio of world devices
• Easy to use
• True smartphone multi-tasking
• International packages that deliver more choice and value
For more information on AT&T international services as well as travel tips, visit www.att.com/global.