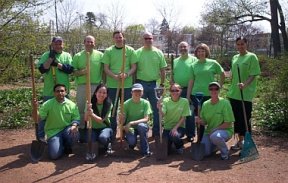 The Illinois Parks and Recreation Association (IPRA) Friday awarded the Chicago Park District with the "Exceptional Workplace" Award during the IPRA Annual Conference held in Chicago. The honor was given to the Chicago Park District to recognize the organization's efforts to support employee health and wellness.
Last year, the Chicago Park District joined the City of Chicago's "Chicago Lives Healthy," a comprehensive wellness program for employees and their spouses, domestic partners and civil union spouses covered under the employee health plan.
"We are extremely proud to accept this award," Chicago Park District General Superintendent Mike Kelly said. "By supporting the comprehensive well-being of our employees, we not only encourage them to make positive changes in their lifestyles but also reap the benefits of a healthier, happier and more energetic workforce."
Each IPRA member agency completed an online self-assessment of their efforts to improve and support overall employee health.