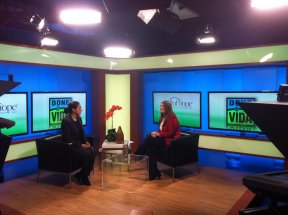 Para Gift of Hope, organización comprometida a concientizar sobre la importancia de la donación de órganos y tejidos, el 2014 representa 365 nuevas oportunidades de continuar sirviendo y apoyando a la comunidad latina.
"Es impresionante y conmovedor ver el enorme deseo en nuestra comunidad de ayudar a los menos afortunados. Cada vez que les pedimos que se unan a nosotros para recaudar fondos para nuestros estudiantes latinos o para recolectar juguetes para nuestros niños enfermos en los hospitales, nuestra comunidad latina está presente", dijo Raiza Mendoza, Administradora de Asuntos Hispanos para Gift of Hope.
Entre los muchos esfuerzos que Mendoza lleva a cabo a nombre de Gift of Hope, se incluye "Despierta Chicago" un segmento transmitido por Univisión Chicago y en el mismo medio conducirá el programa "Sin Condición" transmitido por Univisión, Telemundo, Cable 25 y Mundo FOX.
Gift of Hope ampliará su presencia radial en programas como "Dona Vida" en Radio Vive y "Héroes Anónimos" en Radio Máxima 93.5FM y 103.1FM. Mendoza participa también en "Mujeres Sin Censura", nueva edición del programa de radio de Vicente Serrano en el 1590 AM en el cual Raiza Mandoza es uno de los presentadores.
Gift of Hope aumentará sus actividades comunitarias y continuará sus esfuerzos para informar y educar a tantos latinos como sea posible sobre su misión de extender la esperanza y salvar vidas.