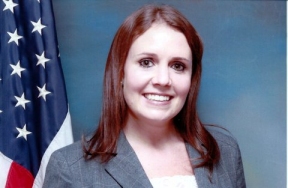 Lauren Brougham Glennon recently announced her democratic candidacy for Judge of the Circuit Court of Cook County, 3rd Sub Circuit, to be held in the upcoming primary election on Tuesday, March 18th.
Glennon has a great academic pedigree. She graduated Cum Laude with a B.A. in Political Science and a minor concentration in Sociology from Winona State University in Minnesota and received a law degree from DePaul University.
She began her prosecutorial career within the Buildings and Land Use Litigation Division of the City of Chicago Law Department as a 7-11 law clerk and soon after was hired as an Assistant Corporation Counsel.
From her volunteer work in high school, transcending through college and years beyond, Glennon has consistently been engaged and active in her community. She presently donates her time to the Ignite the Spirit Charity of the Chicago Fire Department and the Chicago Police Memorial Foundation
Glennon is now practicing law in the private sector. She is a Senior Associate with the firm of Worsek & Vihon LLP, and specializes in Property Tax Law. She resides with her husband Johnny, son Tighe and dog Buck in Beverly.