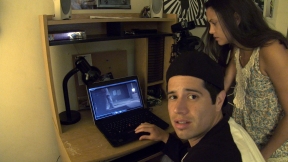 Paranormal Activity: the Marked Ones regresa el suspenso y lo sobrenatural, pero esta vez la posesión demoníaca se apodera de la vida de una familia latina en Oxnard, California.
Poco después de su graduación, Jesse, interpretado por el actor Andrew Jacobs, recibe una extraña mordida que le da poderes sobrehumanos, pero que al mismo tiempo lo arrastra hacia una naturaleza siniestra.
Sus mejores amigos, Héctor, interpretado por el actor Jorge Díaz y Marisol, interpretada por la actriz Gabrielle Walsh, deben descubrir los secretos del oscuro pasado de un vecino muerto, para salvar a Jesse.
Los dos jóvenes, Andrew Jacobs y Jorge Días protagonizan una película que llena de miedo y suspenso al estilo del director Christopher B. Landon. Sin embargo, ambos jóvenes divierten a la audiencia con una química fílmica que recuerda a los chicos del vecindario, que viven calle abajo.
Para Jacobs, la autenticidad de la amistad entre Jesse y Héctor fue la clave que lo atrajo a la historia. El desarrollo de esta química empezó antes de empezar el rodaje.
"Desde el primer momento hubo muy buena vibra, una gran unión entre todos", dijo Jacobs. "Durante el rodaje de la película nos hicimos amigos y continuamos la amistad".
Díaz atribuye esa electricidad a las improvisaciones entre los actores. Una escena que robó escena fue la interpretada por la actriz Renee Victor, como abuela de Jesse, quien capturó el espíritu amoroso de la unión familiar, lo que balanceó los momentos más intensos de The Marked One's (Los Marcados).
"Nuestros personajes lo pedían y vamos a divertirlos", dijo Díaz. "Una vez que el director nos conoció más a fondo nos dio más libertad… y el guión se hizo más alegre".
El personaje de Jesse, quien pasa por la demoníaca transformación, no intimidó a Jacobs, sino que arrojó luz en su actuación.
Aún cuando el género del horror no es agradable para algunos de los aficionados al cine, es refrescante y de hecho, monumental ver que un estudio fílmico tan importante como Paramount Pictures, confía y pone la responsabilidad de los papeles principales en los hombros de un elenco latino.
¿Es esto una señal de que la industria cinematográfica está comenzando a hacer espacio para que los actores y actrices latinos brillen en la pantalla de plata? Tanto Díaz como Jacobs parecen creerlo así.
"Es algo hermoso. Es un nuevo comienzo", dijo Jacobs.
Díaz agregó, "En esta capacidad nunca se había hecho antes. Esta película abre la puerta a nuevas posibilidades y como actor realmente es gratificante ser parte de la historia".
Paranormal Activity: The Marked Ones se exhibe ahora en teatros a nivel nacional.