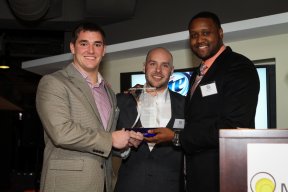 Last Wednesday, Miller Lite announced the winner of its first ever Tap the Future competition, which recognized five business team finalists: Elebev, Hoopla.io, TextPride, The Larell One Step Denture and Borne Digital.
The ceremony, which took place at 250 S. Wacker in downtown, included the awarding each team a $20,000 prize for their entrepreneurial pitches. These pitches were initially presented to Daymond John from ABC's "Shark Tank" during the regional Live Pitch Events.
Of the five finalists, only one team could walk away with the grand prize. After a close race, Notre Dame Alums Sean O'Brien and Evan Wray from TextPride received the grand prize of $250,000.
TextPride is a company that makes stickers and emojis that mobile messaging apps can include as a part of their services.
In addition to the grand prize and the $20000 Live Pitch award, TextPride also won an additional $10,000 after fans voted online to name them one of the Fan Favorites. In total, TextPride walked away with a $280,000 award from Miller Lite.
Miller Lite also announced that Miller Lite Tap the Future will return this year to continue awarding innovative business ventures.
Interested teams of friends can begin to submit their business ideas on February 6.
For more information, visit www.mltapthefuture.com.