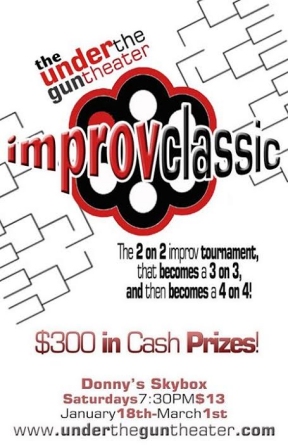 Want to put your comedy skills to the test? Then join Under the Gun Theater's seven week improve tournament beginning Saturday, January 18 at The Donny's Skybox, located at 1608 North Wells 4th Floor in Chicago.
Each qualifying round will feature two two-person groups, five scheduled beforehand and two teams of randomly chosen audience members (audience members can enter themselves into on the way into the show).
The top two teams will be determined by audience vote and move on to the semi-finals. The two teams that move on must each draft a player from one of the other teams that night, thus becoming a three person team.
Similarly in the semi finals, two teams are chosen by the audience and each winning team selects someone from the losing teams to move on with them to the finals. The top team from each semi-final automatically moves on and the 2nd place team with the most votes moves on.
The finals will be on March 1st, and feature 3 four-person teams duking it out for title of champion.
Tickets are $13, $10 for students, and $6 for students of the Second City Training Center.
The tournament will begin on January 18th at 7:30 PM.
Go to www.undertheguntheater.com for more information.