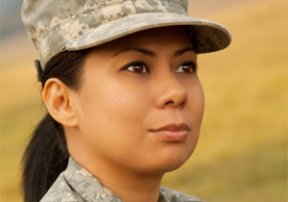 Women's Business Development Center (WBDC) celebrará el primer aniversario del Programa Women Vetrepreneurship (WVP) lanzando "Volviendo a lo Básico: Construyendo su Negocio Boot Camp" (B2B) en colaboración con The PrivateBank.
Una celebración de lanzamiento tendrá lugar en Pritzker Military Library & Museum, 104 S. Michigan Ave., el miércoles, 5 de febrero, de 5:30 a 7:30 p.m.
En el evento, las mujeres veteranas tendrán la oportunidad de inscribirse en un programa de "entrenamiento básico" de 16 semanas, en sesiones enfocadas en desarrollo comercial, investigación de mercadeo, estrategia de precios y requisitos financieros, de acuerdo a la directora de WVP y veterana de Ejército Tormenta del Desierto, Nicole Mandeville.
El entrenamiento empresarial, que despliega el jueves, 6 de marzo, se llevará a cabo en la Iglesia Apostólica de Dios, 6320 S. Dorchester Ave., Chicago.
La serie de entrenamiento B2B está patrocinada por The PrivateBank. The PrivateBank operará y administrará un fondo de micropréstamos, específicamente para los graduados del programa B2B, asesores y tutores con préstamos de hasta $10,000 para los principiantes y de $25,000 para comercios existentes que califiquen.
The PrivateBank se enorgullece de trabajar con WBDC para ayudar a nuestros veteranos a realizar sus sueños de comenzar un nuevo negocio", dijo Tom Doherty, Director de la Banca del Pequeño Negocio de The PrivateBank. "Sabemos la importante diferencia que estos negocios pueden hacer en sus comunidades".
Más información en www.WBDC.org o llamando al (312)853-3477, ext. 410.