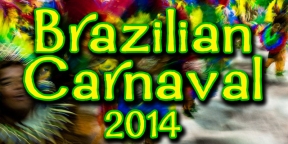 On Saturday, March 1, Mayne Stage will be hosting the Brazilian Carnaval 2014 at 1328 W. Morse Ave. in Chicago.
Featuring entertainers from across Brazil such as Swing Brasileiro, Passistas Samba Dancers and Bloco Maximo and hosted by Marcos Oliveira, Brazilian Carnaval 2014 is primed to be an evening of celebration.
18+ for entry, 21+ to consume. Caipirinha drink specials, limited $5 valet available for early arrivals. Advanced discounted tickets are available.
For more information, go to www.soundculturechicago.com/event/brazilian-carnaval-2014.