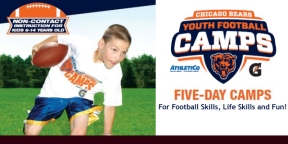 USA Football and Pro Sports Experience will partner in 2014 to incorporate USA Football's Heads Up FootballSM program at Chicago Bears youth football camps.
Endorsed by experts in medicine, child advocacy and sport, Heads Up Football establishes standards rooted in education.
The program encompasses USA Football's nationally accredited coach certification course, Centers for Disease Control and Prevention (CDC) concussion recognition and response, heat and hydration protocols, equipment fitting instruction and the Heads Up Tackling fundamentals.
"The health and safety of every youth and high school is our No. 1 priority, and Pro Sports Experience shares in that commitment," USA Football Executive Director Scott Hallenback said. "Our partnership will advance Heads Up Football within the football coaching community for better, safer play."
Thirty-five high school programs spanning 10 states are piloting Heads Up Football this fall. USA Football plans to offer Heads Up Football to all high schools in 2014.