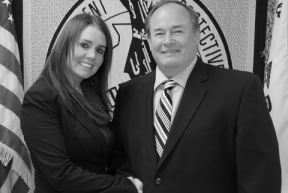 President of Chicago Police Sgts. Association Sgt. James Ade recently announced that
the association has endorsed Lauren Brougham Glennon, Democratic candidate for Judge in the 3rd Judicial Sub-Circuit.
Glennon is the daughter of a Chicago Police Sergeant and wife of a Chicago Fireman. Brougham presently donates her spare time to Ignite The Spirit Charity of Chicago Fire Department and Chicago Police Memorial Foundation.
Pictured with Lauren Brougham Glennon is Sgt. James Ade.