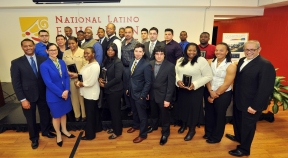 ComEd, 18 construction industry companies, and four social service agencies have announced CONSTRUCT, an expanded opportunity for interested individuals to receive the training, information and guidance needed to compete for entry-level jobs in construction-related fields.
Set to begin March 2014, CONSTRUCT will be an eight-week program designed to address the construction industry's overall need to increase the pool of qualified minority candidates for construction jobs in Illinois.
The program aims to provide 60 participants with career guidance, life skills training, and practical education about the construction industry. Each of the participating companies will provide students with job shadowing experience.
For many of CONSTRUCT pilot program's recent graduates, the experience has been a life changer.
"Six months ago, I was wondering how I'd get my life back on track," said Jacquetta Crusoe, who is now employed by HBK. "Now, I can see my way to much better things. This program is helping me start a new chapter in my life."
CONSTRUCT is part of CareerPower, ComEd's set of jobs initiatives.
"We believe in the power of diversity – and the need to have a workforce that is representative of the many communities we serve," ComEd President and CEO Anne Pramaggiore said.
To complete the program, participants must attend at least 95 percent of all full class days and have taken select tests, among other things. Upon completion of the pilot program, participants can choose any number of career paths.
Anyone interested in applying should contact these agencies directly, where the programs take place:
• Bethel New Life – 773.473.7870
• Chicago Urban League – 773.285.5800
• National Latino Education Institute – 773.247.0707, ext. 223
• YWCA of Metropolitan Chicago – 773.955.3100