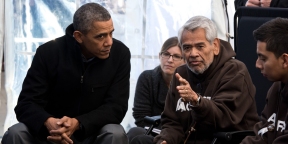 On Saturday, February 22, the Illinois Coalition for Immigrant and Refugee Rights (ICIRR) will host the Illinois Immigrant Integration Policy Summit at Benito Juarez High School, located at 1450-1510 W. Cermak Rd. for a day of workshop, discussion and reflection from 9 a.m. to 1 p.m.
The theme for this year's policy summit is "Keeping Our Families Together." Special guest Eliseo Medina, Labor Leader and Fast for Families Founder, will also be in attendance.
Workshops include information on citizenship, deferred action for childhood arrivals (DACA), healthcare, deportation, tax issues, faith-based organizing and parent engagement.
To register for the event, go to http://icirr.org/content/register-2014-icirr-summit. To learn more about the ICIRR's work, go to www.icirr.org.