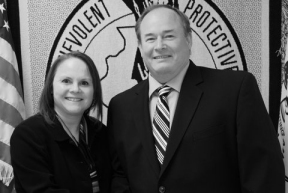 The Chicago Police Sergeants Association endorses Katherine A. O'Dell, the Democratic candidate for Judge in the 10th Judicial Sub-Circuit, following an announcement by the association's president, Sgt. James Ade.
O'Dell is the Past President of the Justinian Society of Lawyers. As a member of the Illinois State Bar Association, O'Dell is serving her third elected term as a member of the ISBA General Assembly (governing its supreme legislative body).
Pictured with Katherine A. O'Dell is Sgt. James Ade.