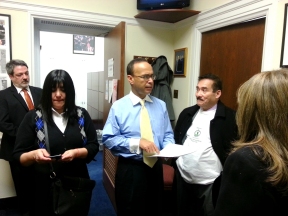 Recently, the League of United Latin American Citizens (LULAC) – Illinois and other consumer advocacy groups from Illinois met with members of the Illinois Congressional Delegation to launch an investigation into Herbalife – a nutritional supplement manufacturer.
Latino leaders believe that Herbalife is running an illegal pyramid scheme that targets disadvantaged communities, particularly Latinos, with aggressive recruitment techniques used to entice them to invest with their savings.
LULAC member Julie Contreras and U.S. Representative Luis V. Gutierrez spoke with Miguel Calderon – an Illinois resident who lost nearly $30,000 as an investor in Herbalife.
A hotline is available for individuals who have claims against Herbalife. Call 855-701-5437.