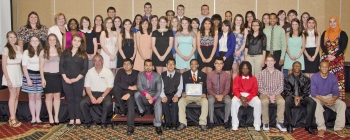 Locally-owned Marquette Bank has announced the 54 local high schools selected for the 2014 Marquette Bank Education Foundation Scholarship Program. The program has provided scholarships to graduating seniors from neighborhoods near Marquette Bank's 22 branch locations for 48 years.
The scholarships are available to students who demonstrate financial need, have an outstanding record of community service and maintain at least a "B" average. Since 1967, over $2.6 million has been awarded to over 1,300 Chicagoland high school students.
"As a neighborhood bank, we want to acknowledge and reward those graduating seniors who have demonstrated a strong commitment to our neighborhoods through volunteering and completing service projects," Marquette Bank President George Moncada said.
Some of the Chicagoland schools invited to participate in the 2014 Marquette Bank scholarship program include Benito Juarez Community Academy, Catalyst Maria High School, Cristo Rey Jesuit High School, Our Lady of Tepayac High School, and Urban Prep/Englewood Campus.
To apply, students from participating schools can pick up an application from their guidance counselor's office by March 15, 2014 and the schools must submit their nominated scholarship recipient by April 25, 2014.
For the full list of participating schools on the Marquette Bank Education Foundation Scholarship Program, call 1-888-254-9500 or visit: www.emarquettebank.com for additional information.