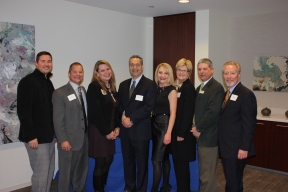 The Regional Development Company (RDC), of Valparaiso, IN, recently announced its branch expansion into the counties of McHenry, Lake, DeKalb, Kane, Cook, DuPage, Kendall, Will and Grundy counties after the organization was granted approval by the Small Business Administration.
Several small businesses and the vast majority of the financial institutions, law firms and accountants have locations in both Indiana and Illinois. As banks, accountants, commercial real-estate brokers and attorneys are the RDC's primary referral sources.  The RDC sought the ability to service their client base, regardless of location.
"I would like to amplify the importance of the Regional Development Company's expansion into Illinois and to highlight the importance of this decision for small business," SBA Regional Administrator Marianne Markowitz said. "The RDC recognizes the success and job creation we are witnessing from small business growth across state lines and they are taking a stand to accommodate this growth."
For more information on the RDC, go to www.rdc504.org.