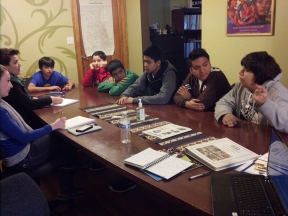 Universidad Popular's (UP) youth program UPrising is working hard to bring residents together through projects that will help create awareness about how budget funds should be allocated in support of the community.
UP's Youth Council was created to tackle these community issues. Members will mentor local youth living in the 22nd Ward. They will facilitate the process through weekly organizational meetings, which will eventually lead to developing a project that will be presented to future Participatory Budget meetings.
Collectively they will be encouraging community residents to get out and vote for their specific project. Mentors over 14 will also be participating in the voting process. Be on the look-out for UPrising's project proposal!
Universidad Popular's Youth Program — UPrising is available to youth between the ages of 11 and 17. The program promotes family unity, wellness and safety.
For more information on Uprising, go to www.universidadpopular.us or call 773-733-5055.