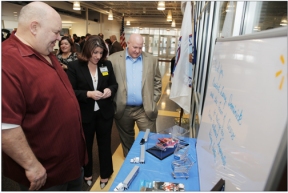 Last Thursday, the Town of Cicero, Wal-Mart representatives and community members gathered at the Cicero Community Center for a press conference and ribbon cutting ceremony.
The event kicked off a hiring search for the new Wal-Mart Supercenter set to open in Cicero at 3320 South Cicero Ave. in spring 2014. The construction of the new store began in early summer 2013 and will result in a 177,557 square foot facility with shopping departments for pharmacy, health and beauty and grocery.
Attendees at the conference included Cicero Town President Larry Dominick, Cicero Wal-Mart Supercenter Store Manager Lisa Perez, Town Assessor Emilio Cundari, Clerk Maria Punzo-Arias, Town Manager Craig Pesek, and Trustees Victor Garcia, Dennis Raleigh and Larry Banks.
Negotiations between Cicero officials and Wal-Mart began in 2005 and lasted almost nine years, according to Dominick, but efforts between both parties paid off.
"I want to thank Wal-Mart for making Cicero their home, and I know they won't be disappointed," Dominick said.
Dominick also acknowledged that the new store would be an attractive shopping option for senior residents in Cicero.
The biggest boon that the new Wal-Mart Supercenter brings to Cicero is the opportunity to provide over 400 jobs to residents. These positions hoped to be filled by March in preparation for the grand opening of the store in May.
Jobs offered are in the areas of retail sales, management, office and loss prevention, and pharmacy and optometry for full and part-time positions. Perez said Wal-Mart associates will also receive benefits and 401K contributions to those eligible, discounts on store merchandise, and quarterly incentives based on performance.
Wal-Mart's Veterans Welcome Home commitment is also another program extended to the Cicero community as recent service men and women are also encouraged to apply for a job.
During the press conference, Perez explained the hiring process for working at the Wal-Mart Supercenter Cicero location, and Wal-Mart assistant managers were on hand to guide community members through the online application process.
Town Manager Craig Pesek also highlighted the many benefits the store chain's presence will bring to Cicero.
"The shopping options, the tax revenues and the job opportunities in the community are great," Pesek said.
Pesek also thanked his colleagues at the Town of Cicero and Wal-Mart for their productive and collaborating working relationships during the process of this project. Pesek also noted that the success of the Wal-Mart contract is only one of many development projects in progress down the road for Cicero.
Following the press conference, Dominick and Perez capped off the announcement by participating in a ribbon cutting ceremony, an official sign of Wal-Mart's new presence in Cicero.
Those interested in applying for a position at the Wal-Mart Supercenter in Cicero can go to www.walmart.com/apply.
Photo Credit: Gerardo Lopez