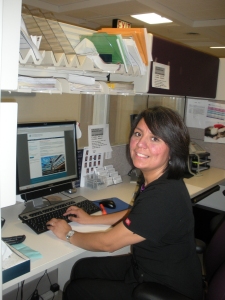 An NLEI Medical Education Success Story
Ana B. Lopez dedicated 20 years of her career in service to people in need. She worked as a substance abuse counselor for a Chicago non-profit organization after starting out there as an office specialist.
Yet when Lopez's agency announced a round of layoffs, she decided to switch careers and enroll at National Latino Education Institute (NLEI) to become a medical assistant. "I might as well do it all the way," Lopez said about her decision to return to studying.
Back in the early 1990s, Lopez took a course in office technology at what was then Spanish Coalition for Jobs (now known as NLEI). She returned to NLEI in 2011 and chose the Medical Assistant course in part because her job as a counselor had taken her to several hospitals and clinical settings, which seemed familiar to her.
As she completed her classroom requirements, Lopez went to the University of Illinois Hospital and Health Sciences System in Chicago to perform her externship. She left such a good impression with her supervisors that she was recommended for employment.
By that time, Lopez was nine months pregnant with her sixth child. (Her three sons and three daughters range in age from 2 to 18.) Her bosses called her regularly, she said, to let her know she'd be welcomed back after her maternity leave.
"It's been a blessing for me all the way around," Lopez said about NLEI's role in preparing her for two careers. She's still on staff as a medical assistant at the UIC Hospital's Ear and Eye Infirmary, and now she's playing the role of big sister to other graduates of NLEI's Medical Assistant program.
Lopez is constantly reminding her colleagues at UIC Hospital and at other facilities that it's important to stick with their career goals and take the certification test as soon as they complete their studies. "I like to remind the externs that if they prepare for the test, they'll see it's not as difficult as they think," she said. "And I tell other younger medical assistants that UIC just doesn't pick anybody to work here, so if they're here it's because they're good."
Ana B. Lopez works at UIC Hospital and Health Sciences System, where she began as a medical assistant in 2011. She delivered the keynote speech at her NLEI graduation ceremony and spoke about her experience with NLEI at the agency's Annual Dinner and Silent Auction in 2012.