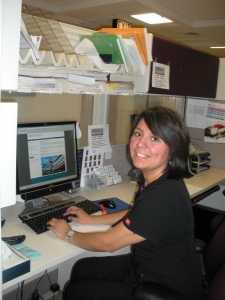 Historia de Exito de Estudiante de Medicina de NLEI
Ana B. López dedicó 20 años de su carrera a servir a la gente necesitada. Trabajó como consejera de abuso de substancias para una organización no lucrativa, después de empezar ahí como especialista de oficina.
Cuando la agencia de López anunció una ronda de desempleos, Ana decidió cambiar de carrera e inscribirse en el Instituto Nacional de Educación Latino (NLEI) para convertirse en asistente médico. Mejor llego hasta el final", dijo López sobre su decisión de regresar a estudiar.
A principios de 1990, López tomó un curso en tecnología de oficina, en lo que entonces era Spanish Coalition for Jobs (ahora conocido como (NELI). Regresó a NLEI en el 2011 y escogió el curso de Asistente Médico, en parte porque su trabajo como consejera la había llevado a varios hospitales y clínicas, lo que se le hacía familiar.
Al terminar sus requisitos de clase, López fue al Hospital de la Universidad de Illinois and Health Sciences System en Chicago, para hacer su internado. Dejó tan buena impresión en sus supervisores que fue recomendada para un empleo.
Para entonces López tenía nueve meses de embarazo de su sexto hijo. (Sus tres hijos y tres hijas estaban entre los 2 y 18 años). Sus jefes la llamaban regularmente, dice, para hacerle saber que sería bien recibida después que regresara de su permiso de maternidad.
"Ha sido una bendición para mi", dijo López sobre el papel de NLEI de prepararla en dos carreras. Aún está en el personal como asistente médico en la Enfermería de Ojos y Oídos del Hospital de UIC y ahora hace el papel de hermana mayor para otros graduados del programa de Asistente Médico de NLEI.
López recuerda constantemente a sus colegas del Hospital UIC y al de otros centros, que es importante mantener fijas las metas de su carrera y tomar la prueba de certificación tan pronto completen sus estudios. "Me gusta recordar a los externos que si se preparan para la prueba, van a ver que no es tan difícil como piensan", dijo. "Y dijo a otros asistentes médicos jóvenes que UIC no escoge a nadie para que trabaje para ellos, así es que si están ahí, es porque son buenos".
Ana B. López trabaja en UIC Hospital and Health Sciences System, donde comenzó como asistente médico en el 2011. Estuvo a cargo del discurso en su ceremonia de graduación en NLEI y habló sobre su experiencia con NLEI en el Banquete Anual y Subasta de la agencia en el 2012.