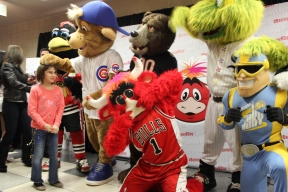 By: Ashmar Mandou
Hundreds of Chicago Bulls fans lined up to help celebrate the birthday of one of the most beloved mascots around, Benny the Bull.
The Chicago Bulls and Advocate Children's Hospital invited fans to join the celebration of Benny the Bull's birthday as they hosted "Benny's Birthday Bash" on March 22nd before the Bulls took on the Philadelphia 76ers.
Joining in on the jovial festivities were Chicago Sports Team Mascots, including South Paw (Chicago White Sox), Tommy Hawk (Chicago Blackhawks), Staley (Chicago Bears), Sky Guy (Chicago Sky), Clark (Chicago Cubs), and Sparky (Chicago Fire) along with the Luvabulls and Incredibulls.
With painted faces, colorful jerseys, and Bulls masks, fans happily posed with their favorite mascots wishing Benny the Bull a happy birthday. During halftime, a special "Mascot Madness" competition took place on the court with a work dance and musical chairs contest.