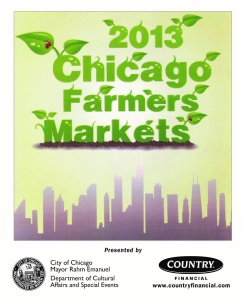 Kick Off Seventh Annual Reusable Bag Design Contest
Chicago high school students can show their artistic talents as COUNTRY Financial and Chicago Farmers Markets launch their seventh annual reusable bag design contest. This year's theme is "Grow Your Own Way" which highlights the diversity of the people, places and products farmers markets represent.
The student with the winning design will receive a $1,000 scholarship. In addition, his or her artwork will be showcased on thousands of reusable canvas bags distributed to farmers market shoppers throughout the season. The bag contest will supplement initiatives to reduce waste and promote recycling at each of the market locations.
The winning designs will be unveiled opening day of the Chicago Farmers Markets on May 15 at Daley Plaza. All three finalists will be invited to attend. Entries must be submitted to the address below by Friday, April 4 at 4 p.m.:
COUNTRY Financial
Farmers Market Competition
55 W. Monroe St., Suite 3150
Chicago, IL 60603
For more information, contact your school's administration or visit www.CountryFarmersMarkets.com.