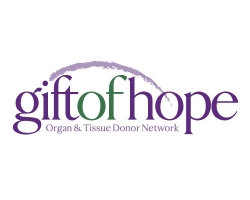 Para millones de cristianos de todo el mundo, marzo marca el principio de la cuaresma, tiempo de autorreflexión durante el cual la gente se dedica al crecimiento espiritual. Marzo es también el principio de la primavera, una época que inspira la renovación y el cambio, sin importar las creencias religiosas. Gift of Hope reconoce la amabilidad y compasión de la comunidad latina, que unida, puede hacer un cambio positivo en la vida de los demás.
De acuerdo al Departamento de Salud y Servicios Humanos, hay actualmente más de 20,000 hispanos en la lista de espera de transplantes, la que aumenta cada diez minutos. Los latinos componen el grupo étnico más pequeño de donantes de órganos y tejidos y son menos propensos a buscar tratamiento médico en casos que no sean de emergencia. Es por eso que Gift of Hope exhorta a los latinos a dedicar algún tiempo durante esta temporada de cuaresma a reflexionar sobre su salud y la de su comunidad, inscribiéndose para ser donantes de órganos.
El próximo mes, abril, es el Mes Nacional de Donación de Vida, durante el cual conmemoramos a quienes han dado a otros una segunda oportunidad de vida a través de la donación. Gift of Hope celebra la llegada de la primavera y la cuaresma y reafirma su compromiso de ser siempre parte de todo lo bueno para la comunidad latina. Para más información sobre la donación de órganos de Gift of Hope, visitar www.giftofhope.org.