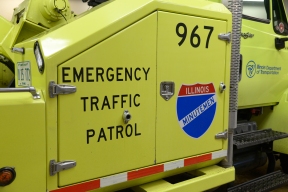 Governor Pat Quinn recently announced an investment of $447,000 to repair and renovate the Illinois Department of Transportation's Emergency Traffic Patrol Headquarters in Chicago.
Funded by his Illinois Jobs Now! capital program, the project is part of Governor Quinn's commitment to creating jobs and driving Illinois' economy forward.
"This winter has caused us to realize just how vital this seemingly mundane facility can be, and properly repairing and maintaining it will help us get ready for next year's winter," Governor Quinn said. "The project will also employ a number of construction workers, which will drive local economies forward."
The project involves the replacement of pneumatic controls, compressor, control panels and other electrical and mechanical systems. An emergency generator and associated electrical gear will also be installed to allow the facility to operate during power outages.
Airport Electric Co, of Chicago was the low bidder for the electrical portion of the work with a quote of $267,590. R.J. Olmen Company of Glenview received the ventilation contract on their bid of $179,900. The project will be managed by the Illinois Capital Development Board.