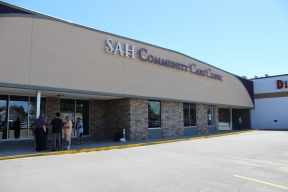 Saint Anthony Hospital opened the first ambulatory clinic of its new outpatient model that provides a variety of service lines to patients from family practice to dialysis to rehabilitation therapy. This model of providing different services in one site allows patients and their families to be cared for at one location.
Saint Anthony Hospital was awarded Project of the Year at the Hispanic American Construction Industry Annual Awards Banquet. The award recognizes, honors, and publicizes a successful project and the achievements of the project owner for superior leadership performance of diversity and community development within the State of Illinois.
"This project is our commitment to provide quality outpatient services in the Little Village community. We wanted to make sure that the partner we brought in was a reflection of the community we serve," stated Guy A. Medaglia, president and chief executive officer, Saint Anthony Hospital.
Saint Anthony Hospital invested more than $5 million in renovating a former city clinic at 3059 W. 19th St. in Little Village. The 18,000 square foot clinic houses a state of the art, nonprofit dialysis center, rehabilitation services, occupational health, immediate care, dentistry provided by Sonrisa Dental, and family practice, OB/GYN and pediatric services provided by Esperanza Health Centers.
"We are honored to Saint Anthony Hospital for providing us the opportunity to partner with them and congratulate them on this great recognition," stated Rafael Hernandez, Executive Vice President, DENCO.