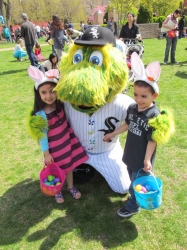 Prairie District Neighborhood Alliance (PDNA) ofrecerá su Caza Anual de Huevos de Pascua en Chicago's Women's Park and Gardens, con una variedad de actividades familiares, el sábado, 19 de abril, de 12:00 p.m. a 2 p.m. Este popular evento se espera atraiga a más de 2,000 personas del South Loop y comunidades circunvecinas.
La caza de Huevos de Pascua comenzará a las 12:15 p.m., Durante la caza, los niños buscarán más de 10,000 coloridos huevos de plástico, llenos de juguetes y dulces y podrán ganar un premio. La caza de huevos se recomienda para niños hasta los 12 años. Habrá áreas designadas separadas para la caza, con un área para niños más pequeños y un área para niños más grandes. Los niños deben llevar su propia canasta de pascua e ir acompañados por un adulto.
PDNA está entusiasmado de asociarse con los Medias Blancas de Chicago y regalará 200 boletos para el juego de los Medias Blancas y 150 boletos para el Zoológico de Brookfield, en la caza. La mascota de los Medias Blancas, Southpaw estará en el evento para jugar con los niños.
Chicago Women's Park and Gardens está localizado en el 1801 S. Indiana Ave., en Chicago. La admisión es $12 para niños y $4 para niños de 13 años a edad adulta. No hay cargo para niños hasta los 12 meses de edad. El cupo es limitado y se requiere la reservación. Para más información o para la compra de boletos, visite la red de PDNA en www.pdnachicago.com o llame al (312)401-2688.