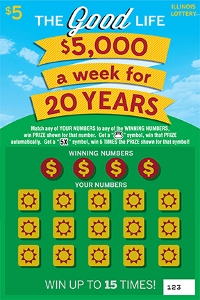 Yajaira Pérez no podía dejar de sonreir cuando descubrió que había ganado $5.000 a la semana por 20 Años, en el boleto de la lotería instantánea The Good Life. "Cuando me di cuenta que había ganado, en lo único que podía pensar era en que ahora podría cumplir mi sueño de crear un centro de rehabilitación para mujeres y niños maltratados".
Yajaira, de 27 años, es originaria de Puerto Rico, está casada y tiene dos niños. Llegó a Chicago a los 17 años y desde entonces ha estado trabajando en una escuela elemental. "Estar en contacto con tantos niños y saber de tantas familias con necesidades me hace querer hacer la diferencia en mi comunidad", dijo Yajaira. Su pasión al trabajo con los niños la hizo inscribirse en clases vespertinas para llegar a ser maestra y obtener un diploma.
Además de realizar su sueño de establecer un lugar seguro para mujeres y niños abusados, la afortunada residente de Oak Park planea también compartir el dinero con su familia, invertir para su retiro y abrir una cuenta de ahorros para la universidad de sus hijos. "Puedo hacer tantas cosas con la lotería que gané. Mi esposo y yo nos sentimos sumamente bendecidos". Su consejo para otros jugadores de la lotería es, "Sean agradecidos y traten de retribuir en alguna forma lo ganado".
El número ganador de la lotería fue comprado en el 7-Eleven, 6440 W. Diversey Ave., en Oak Park. Por vender el boleto ganador, 7-Eleven recibirá un bono de $52,000, equivalente al 1 por ciento del premio. Los boletos The Good Life están disponibles en cuatro diferentes precios — $1, $2, $5 y $10 con respectivos premios de $1,000, $2,000, $5,000 y $10,000 a la semana, por 20 años.