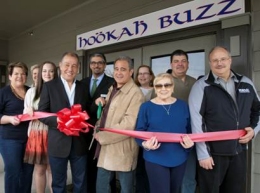 The art of smoking hookah has been gaining popularity nationwide. At its core, smoking hookah is a social experience centered on relaxation and conversation. Identifying a gap in the area, Entrepreneur John Dasoqi launched a new lounge, Hookah Buzz (TheHookahBuzz.com), at 6912 W. Windsor Avenue in Berwyn. The business celebrated its grand opening in partnership with the City of Berwyn and the Berwyn Development Corporation (BDC) on April 24.
This enterprise is the second for Dasoqi and sets the standard for melding a practice dating back to ancient Persia with the comfort and ambiance of a modern lounge. Dasoqi sees the clean-lined, open space as the main draw to his business and says that the hookah is simply "added value." The lounge itself is sleek, decked out with leather chairs and couches arranged for group seating, soft lighting and high definition televisions. The hookah accoutrements and tobacco are top-of-the-line. The management team prides itself on cleanliness in the space, cleaning the hookahs and hoses after each use and investing in an exhaust system that pulls out the air instead of simply re-circulating it. In all, patrons are offered open admission to what feels like a VIP experience.
Hookah Buzz delivers knowledgeable and attentive service seven days per week. Their hours extend from Sunday – Thursday from 6:00 pm – 1:00 am and Friday – Saturday from 6:00 pm – 3:00 am. The space offers free Wi-Fi and encourages guests to bring in or order in food. They also sell coffee, tea, juices and snacks as well as hookah, accessories and tobacco.