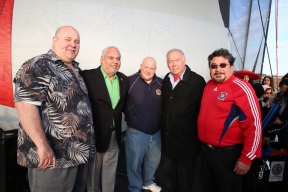 Town President Larry Dominick and the Town of Cicero co-hosted the annual celebration in honor of Cinco de Mayo honoring the Mexican Consul General Carlos Jimenez Macias and the Town's Mexican American community.
Nearly 100,000 people were estimated to have attended the festivities which began with a welcome from Mr. Macias on Friday followed by a weekend of celebrations that included entertainment, food and family carnival rides. On Sunday night, President Dominick was joined by Town Officials and members of the organizing Cicero Mexican Cultural Committee (CMCC).
"We are very proud to welcome all of the residents to celebrate this important holiday honoring an important date in Mexican History and to recognize the many contributions that Mexican Americans contribute to this country," Dominick said.
Macias thanked President Dominick and the Cicero Mexican Cultural Committee for their commitment and wide-ranging services to the Mexican Community.
"Cinco de Mayo is an important event in our community in celebrating the history and the culture of the people of Mexico. This event symbolizes how the people of Mexico came together, united to force the French forces out of our beloved Mexico to bring forth a stronger nation. Que viva Mexico!" Macias said.
Each year, in celebration of Cinco de Mayo, Cicero officials and the Mexican American community host the annual "Cicero President's Cup" soccer competition at Toyota Park in Bridgeview, hosted with the support of State Senator Steven Landek who is also mayor of Bridgeview. Dominick, Consul General Macias, and Cinco de Mayo Festival "Senorita Cicero" Lupita Diaz Donato congratulated the Dragons, who are a soccer team based in Clyde Park in Cicero. The Clyde Park Dragons defeated Chicago's Soccer Team by a score of 2 to 0.
Also congratulating the team were Trustee Larry Banks, Town Assessor Emilio Cumdari, Dr. Dana Grove of Morton College which was a soccer tournament sponsor. The Trophy was presented to the winning team by 1st princess Marisol Campos and 2nd princess Mary Ester Sanchez. Also attending the event were Supervisor Joe Virruso, Collector Fran Reitz, Trustees Victor Garcia, Dennis Raleigh and Clerk Maria Punzo-Arias. A special welcome was read from Trustee Lorraine Walsh.
PHOTO CAPTION: From left, President Larry Dominick, Consul General Carlos Jimenez Macias, Assessor Emilio Cundari, Trustee Larry Banks, and Frank Aguilar. Photo Courtesy of the Town of Cicero and Gerardo Lopez.