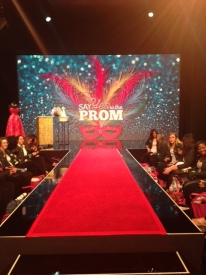 Por: Ashmar Mandou
Los estudiantes de Julian High School y Curie Metropolitan High School tenían enormes sonrisas en sus rostros al salir de Harpo Studios la semana pasada del evento "Di Si al Vestido de Graduación'.
JCPenney, en colaboración con Discovery Communications celebró su iniciativa anual "Di Si al Vestido de Graduación' evento que promueve la confianza y una autoimagen positiva para las jovencitas de secundaria. Discovery se asoció con Comcast, OWN y Harpo para presentar a las jóvenes en Harpo Studios el miércoles, 7 de mayo.
JCPenney trabajó con Monte Durham, director de modas y estrella de Say Yes to the Dress: Atlanta, de TLC, para garantizar que cada jovencita luce y se siente lo mejor el día de la graduación. Las jovencitas tuvieron la oportunidad de ver accesorios y vestidos además de hablar con expertos para crear la imagen perfecta para la graduación. JCPenney donó una amplia variedad de accesorios incluyendo complementos, chales y una variedad de joyería. Como parte del programa, cada una de las jóvenes fue acompañada por un tutor, quien le sirvió de entrenador, ayudante en compras y asistente en estilos durante todo el día.
La iniciativa 'Di Si al Vestido de Graduación' viaja por todo el país con la oportunidad de establecer relaciones con tutores y profesionales de la industria y las jóvenes, para ayudarles a aumentar la confianza en si mismas.