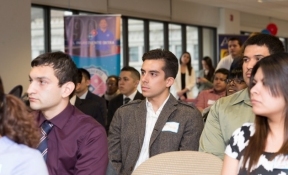 Domino's Pizza, el reconocido líder mundial en entrega de pizzas a domicilio, inspiró a jóvenes hispanos a encontrar su camino al éxito durante el taller gratuito de desarrollo profesional, Ingredientes para el éxito, el cual se llevó a cabo en Harold Washington College en el centro de la ciudad de Chicago.
El evento, ofrecido en colaboración ALPFA, incluyó panelistas inspirantes en carreras diversas que compartieron su experiencia y dieron valiosos consejos sobre cómo comenzar un negocio exitoso. Los asistentes luego se unieron y participaron en talleres interactivos que identificaron las mejores prácticas sobre cómo establecer metas profesionales, incorporar rasgos de personalidad e identificar sus pasiones empresariales con el fin de empezar su camino a las metas personal.
Tsi-Tsi-Ki Félix, locutora del programa sindicado De Costa a Costa de Univision América, actuó como maestra de ceremonias de Ingredientes para el éxito. Félix fue anteriormente una reportera de La Que Buena 105.1FM, una de las emisoras de radios Hispanas más grande. Además, lideró la cobertura de la campaña histórica presidencial del 2008 en Telemundo Chicago, cubriendo las convenciones políticas, noche de la elección y la inauguración. Autora y empresaria Jacqueline Camacho-Ruiz se desempeñó como moderadora del panel. La autora de The Little Book of Business Secrets that Work fue premiada con el Emerging Leader Award por Chicago Association of Direct Marketing y el Entrepreneurial Excellence and Influential Women in Business Award por el Daily Herald Business Ledger.