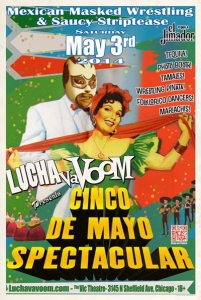 By: Ashmar Mandou
By now, we all know, hopefully, that Cinco de Mayo is a celebration of the Battle of Puebla that took place May 5th, 1862. Today, Cinco de Mayo has become a prime holiday not just for the Mexican community, but for everyone to join in on the festivities. This year, Cinco de Mayo falls on a Monday and lots of events are happening around the city leading up till then. From races to cantina crawls, we have a fun list of different to celebrate Cinco de Mayo.
Cinco de Mayo Parade
May 4th
Cermak from Wood to Kedzie
Noon
The Cinco de Mayo Parade is held to remember the victory the Mexican forces had over the invading French army in the Battle of Puebla on May 5th, 1862.
Cinco de Mayo Festival
May 2nd – May 4th
26th Street and Kostner (Little Village)
Friday 6p.m.,-11p.m.; Saturday and Sunday 2p.m., to 11p.m.
This three-day festival (which is held in the Little Village neighborhood, too many is the heart of Chicago's Mexican community), is celebrating its fifth year in 2014. It will again feature plenty of live music, food, arts and crafts, activities for families and children and much more. The bottom-line? Cinco de Mayo Fest celebrates Hispanic families and community with a joyous flair.
Lucha VaVoom Presents Cinco de Mayo Spectacular
May 3rd
The Vic Theatre: 3145 N. Sheffield Ave.
8:30p.m.
$25-$65
18 and older
Lucha Libre! Sexy-Mexy Striptease! Mariachis! Comedy! Folkloricos! Tequila! Free Photo Booth and much more! For tickets, visit www.jamusa.com/events/lucha-vavoom/
Cinco at Ay Chiwowa!
May 5th
Ay Chiwowa: 311 W. Chicago Ave
Noon
Ay Chiwowa! is a Mexican-themed dive that opened just a few months ago in the 2000 square-foot space where Martini Ranch used to be. With 80+ tequilas, kegged margaritas, tacos, DJs and a mariachi band, Ay Chiwowa! will be celebrating Cinco de Mayo all week long!
Inaugural Cinco de Mayo Pilsen Cantina Crawl with LiMe Film Fest
May 3rd
Various Locations
1p.m. to 6p.m.
Mariachis will be performing in select venues, as well as Norteño and Trio bands and some local musical acts including DJs that will play a myriad of styles from venue to venue. For more information and for tickets, visit www.2014pilsencantinacrawl-lime.mivoz.com
Cinco de Miler
May 4th
Montrose Beach
Cinco de Miler Chicago is heating up Montrose Beach. Join them for a 5-mile race celebrating Mexico's colorful culture. You'll score a fitted technical tee and enjoy an amazing after-party. For more information, visit www.cincodemiler.com.