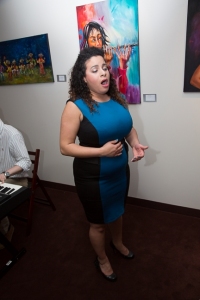 Por: Sylvia Tencer
Con su bella pintura, colores vivos y estilo realista, la artista Colombiana Martha Hernández conocida como Marthika llega a Chicago a exhibir su obra en Millenium Art Gallery donde la Dra. Yolanda Ayubi es la propietaria. La obra maestra de Marthika nos inspira y transporta a un mundo feliz, dinámico y sonriente. Al observar la serie de Don Quijote nos lleva a soñar y vivir esa gran fantasia; con sus Mujeres Fantásticas que tocan diferentes instrumentos se siente el movimiento al compás de la música. La pintura llamada La Mulata que toca la guitarra, muestra las tradiciones Colombianas y alegría de la costa. La magia de su pincel nos lleva a un mundo etéreo, juguetón, sensible y lleno de frescura. Nos cuenta la artista que el arte para ella y sus 4 hijas es escencial en sus vidas al igual que la música. Johanna Ortegón, su hija es pianist y a la vez directora de Ortegon School of Music, escuela de música. Johanna menciona que la música estimula la creatividad, incrementa la inteligencia y la concentración, especialmente en los niños. La unidad familiar es de suma importancia para Marthika ya que la venta de sus obras se donarán para dar becas a estudiantes de bajos recursos que logren sus studios musicales en la escuela de Ortegon School of Music.
Martika es nacida en Bogotá y ha vivido en Medellín donde tiene su taller de arte. Es una escultora muy famosa y ha efectuado murales y ha restaurado obras importantes como en el Palacio Nacional de Medellín y en múltiples Iglesias. Su motivación a su pintura fue su marido, el Sr. German Ortegon para ella fue su Dulcinea. Traer sus obras es ayudar a todos estos niños y jóvenes que serán becados.
Para la Dra Ayubi es muy importante que los Latinos estén en la avenida Michigan ," Los Latinos pertenecemos a lo más alto". Y para Marthika ver sus cuadros es soñar y transportarse a la fantasia y sentir la vida ya que el arte es la inspiración para vivir ,mejor.
Los invito a que disfruten esta obra como lo hice yo. Millenium Art Gallery esta situada al 8 South Michigan, Suite # 2103 en Chicago. Esta abierta de Lunes a Sábado de 9am-5pm, Para más información y horas de visita llamen al: 312.912.7122
Enhorabuena a las tres Latinas, Dra. Ayubi, Marthika y Johanna!