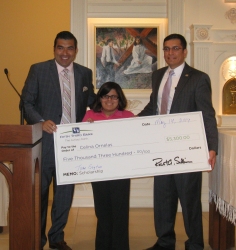 Fifth Third Bank honra a líderes de nuestra comunidad durante un año reconociéndolos por sus contribuciones. Tsi-tsi-ki Félix y Juan Gaytán, homenajeados durante el 2013, otorgaron hoy las becas por $5,300 dólares, que recibieron cada uno, a dos estudiantes de la Escuela Secundaria Cristo Rey en una ceremonia especial.
La presentación de las becas tuvo lugar en la secundaria Cristo Rey Jesuit, ubicada en el 1852 W. 22nd Place. Tsi-tsi-ki Félix (periodista y personalidad de los medios) y Juan Gaytán (Empresario y mentor) formalmente presentaron en su nombre: la beca Tsi-tsi -ki Félix y la beca Juan Gaytán, respectivamente.
Cada año, Fifth Third Bank honra a varios líderes de la comunidad. En 2013, Tsi-tsi -ki y Juan recibieron el premio Cristal y las becas, durante un evento especial que tuvo lugar en octubre y que ahora se hizo la entrega formalmente de estas becas a los dos estudiantes elegidos, para el primer año de sus estudios universitarios.
Cristo Rey Jesuit High School es una escuela católica, universidad mixta bilingüe, ubicada en el barrio Pilsen de Chicago. Fundada en 1996, Cristo Rey es pionera del programa Corporate Work Study (CWSP) para la educación dentro de la ciudad mismo que ha inspirado a una red nacional de más de 25 escuelas que ayudan a comunidades de bajos ingresos en todo el país. El Programa CWSP mantiene a Cristo Rey accesible y permite a todos los estudiantes a ganar aproximadamente 70 % de su matrícula anual a través del empleo en una posición de entrenamiento en una de las 200 empresas, incluyendo Fifth Third Bank, en el área de Chicago. 100 % de los estudiantes actuales son aceptados en la universidad cada año.
PHOTO:
Juan Gaytan, president y CEO de Monterrey Security, 2013 honors with Fifth Third Bank Crystal Awards and a scholarship of $5300 presented under his name to Celina Ornelas, and Carlos Salazar, Business Banking Relationship Manager at Fifth Third Bank.