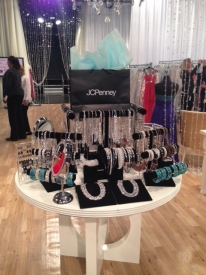 By: Ashmar Mandou
Students from Julian High School and Curie Metropolitan High School had huge smiles on their face as they left Harpo Studios this past week for the 'Say Yes to the Prom' dress event.
JCPenney, in collaboration with Discovery Communications, held their annual 'Say Yes to the Prom' initiative, an event which promotes confidence and positive self-image for deserving high school girls. Discovery also partnered with Comcast, OWN, and Harpo to host the girls at Harpo Studios on Wednesday, May 7th.
JCPenney worked with Monte Durham, fashion director and star of TLC's Say Yes to the Dress: Atlanta, to ensure that each girl looked and felt their very best on prom day. The young girls had a chance to browse through accessories and dresses and talk with salon experts to work on creating the perfect prom-do. JCPenney donated a wide range of stylish accessories including clutches, shawls, and an assortment of jewelry. As part of the program, each girl was paired with a mentor who served as a coach, personal shopper, and style assistant throughout the day.
'Say Yes to the Prom Dress' initiative travels across the country for a chance to build mentoring relations with industry professionals and young women in order to help boost self-confidence.