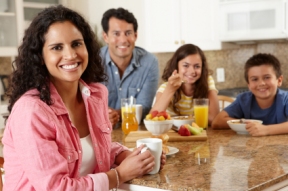 The Affordable Care Act is making health insurance coverage more affordable and accessible for millions of Americans. During the first annual enrollment period, more than eight million Americans signed up for coverage through the Health Insurance Marketplace, including more than four million women. And that doesn't include the more than three million young adults who have gotten coverage through their parents' health plans, or the millions who have learned they are eligible for Medicaid coverage. These people are enjoying high quality, affordable coverage that can't discriminate based on a pre-existing condition, or charge women more because of their gender.
For women, the law addresses inequities and increases access to quality, affordable health coverage that meets their unique health needs. The Affordable Care Act invests in prevention and wellness, and gives women and their families more control over their care. And women can no longer be charged more for health insurance because of their gender. Because of the Affordable Care Act, 18.6 million uninsured women have new opportunities for coverage. Additionally, millions of women across the country are benefiting from the stronger coverage and consumer protections made possible by the Affordable Care Act:
• Twenty-six women with private health insurance gained expanded access to preventive services with no cost-sharing, including mammograms, cervical cancer screenings, prenatal care, flu and pneumonia shots, and regular well-baby and well-child visits. And many health plans now cover additional preventive services with no cost-sharing, including well-woman visits, screening for gestational diabetes, domestic violence screening, breastfeeding supplies and contraceptive services.
• The Medicaid expansion is providing comprehensive coverage for lower income women who were previously only eligible for coverage while pregnant. Enrollment in Medicaid and the Children's Health Insurance Program is open year round. Visit http://go.usa.gov/ktRw to learn more.