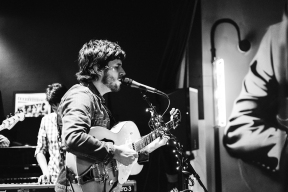 By: Ashmar Mandou
Multitalented Colombian singer Juan Pablo Vega grew up listening to a cornucopia of musical sound. "Music always played in my house. I would accompany my dad to his piano performances and play on my homemade drum set," said Juan Pablo Vega, who phoned Lawndale Bilingual Newspaper from his home in Bogotá to talk about his new album, Nada Personal. "From a very young age I heard different genres of music in my house; everything from Colombian singers to Slash to Jefferson Airplane to Argentinean Rock singers like Seru Girán." During his teenage years, Vega mastered the guitar and started singing and writing his first songs, eventually playing in small stages, street venues, and family reunions.
In 2008 Vega heard that world-renowned music producer Julio Reyes Copello was looking for new and innovative talent. Vega sent Copello a demo of his songs and Copello was blown away by what he heard. "I was really happy when he enjoyed my songs, before that I was contemplating a career in journalism. But music always remained my first passion," said Vega. Vega immediately moved to Miami to start recording an album together under Copello's recording label Art House Records.
During the research and development of his own style, Vega also worked as a musician, producer, composer, and engineer for artists such as Florent Pagny, Marc Anthony, Chayanne, Thalia, Paulina Rubio and more. It took him on an unimaginable journey and collaborative effort with Reyes Copello of about six years, which resulted in releasing his debut album Nada Personal in December 2013 to audiences worldwide. "It was truly amazing, such a wonderful experience," said Vega. "I am so grateful to have Copello to learn from and have him be my mentor. To have someone who has the same vision you do as an artist is incredible."
For his new album a large number of his performances were recorded live to showcase Vega's range as a musician. "Nada Personal is a summary of what I am, a simple human being that became a musician and a tribute to the sounds I've heard in my 28 years of life, influenced by the likes of Stevie Wonder, James Taylor, and the Beatles,' said Vega. Vega's fresh and eclectic sound sets himself apart of today's musical scene. Vega is ready to reinvent the Hispanic music market with his unique approach and widely influenced sound. Nada Personal is available in stores. To learn more about Vega and to listen to his songs, visit www.juanpablovega.com or www.facebook.com/JPVegaOficial.