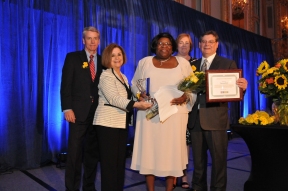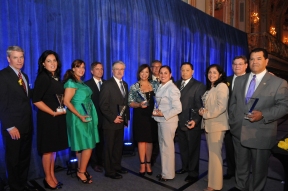 El Valor, a leading internationally recognized non-profit organization, celebrated its 41st annual Don Quixote fundraiser dinner event on June 3rd. More than five hundred civic, community and elected leaders gathered with new President and CEO Rey B. Gonzalez, AT&T Illinois President, Paul LaSchiazza and El Valor's board of directors and presented honors to the Illinois Legislative Latino Caucus and to Vanessa Rich, board chair of the National Head Start Association.
The Board Chair of the National Head Start Association, Vanessa Rich, is known across the country as leading pioneer in early childhood development and has created an effective learning community. Ms. Rich was presented with the Guadalupe A. Reyes Founder's Award. The Don Quixote Leadership Award was presented to the Illinois Legislative Latino Caucus for their critical groundbreaking legislative work to address the disparity of access to quality education, healthcare, economic development and human capital development for the Latino community across the state.
For more than 40 years, El Valor has provided leadership in early childhood education, provided support for persons with disabilities and in addressing the demand for credentialed linguistically and culturally personal. Research from the Pew Research Center recently demonstrated that the country continues to have a multicultural demographic shift that includes Latinos becoming the majority population in the United States. According to the research, Latinos have made a vital impact shaping the future of this country, while leading the country's economic growth and purchasing power.
PHOTO CAPTIONS
PHOTO 9455 – (From left-to-right) – (Paul Gaughan, President, Parkway Bank & Trust Company and Chair od El Valor's Board of Directors, Clara Lopez, Vice President of El Valor, Vanessa Rich, Board Chair, National Head Start Association, Lisa Stewart, Senior Director, External Affairs for National Head Start Association and Rey. B. Gonzalez, President & CEO of El Valor)
PHOTO 9601 – (From left-to right) – (Paul Gaughan, President, Parkway Bank & Trust Company and Chair of El Valor's Board of Directors, Representative Linda Chapa LaVia (83rd District), Representative Antonia Berrios (39th District, Craig Chicago, El Valor Board Member/ CEO, Back of Yards Neighborhood Council, Representative Fred Crespo (44th District), Representative Iris Martinez (20th District), Phil Fuentes, Nuance Duty Free Store, Representative Cynthia Soto (4th District), Representative Edward Acevedo (2nd District), Representative Elizabeth Hernandez (24th District) Rey B. Gonzalez, President & CEO, El Valor and Senator Martin Sandoval (11th District)