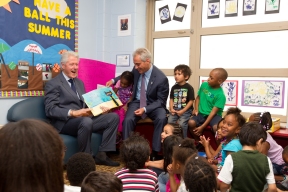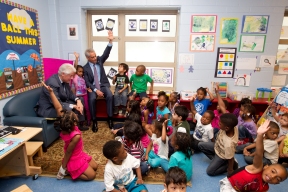 Mayor Rahm Emanuel joined President Bill Clinton at the Metropolitan Family Services Early Learning and Wellness Center in Englewood to highlight the importance of increased access to high-quality early childhood education. Mayor Emanuel has committed $36 million in early childhood education over three years to add early learning programming for an additional 5,000 Chicago children.
Prior to the event, Mayor Emanuel invited President Clinton to tour the new early learning center, established to serve the Englewood and New City/Back of the Yards communities. The Mayor made the request because of President Clinton's work, as president and through his Foundation, stressing the importance of early childhood education.
The City of Chicago supported the development of the Metropolitan Family Services Early Learning and Wellness Center to provide high-quality full day early learning and pre-kindergarten as well as wraparound and health services for families in the Englewood and Back of the Yards. Starting in 2014, the entire City's early learning centers require that all instructors have a bachelors' degree or higher.
The City developed an Early Learning Portal that serves as a one-stop-shop to help parents find programs, assess program quality, and understand their child's eligibility for programs. To access the portal, please visitwww.chicagoearlylearning.org, text your zip code to 773.886.1819, or call the Chicago: Ready to Learn! hotline at 312.229.1690.
Photo Credit: Brooke Collins // City of Chicago
Photo Caption: Mayor Emanuel and President Clinton read to children at the Metropolitan Family Services Early Learning and Wellness Center