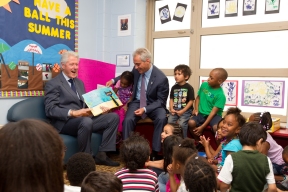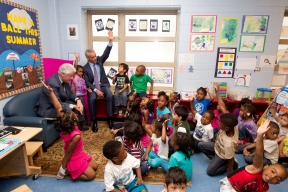 El Alcalde Rahm Emanuel se unió al Presidente Bill Clinton en el Centro de Bienestar y Aprendizaje Temprano de Servicios Familiares en Englewood, para destacar la importancia del aumento al acceso a educación temprana de alta calidad. El Alcalde Emanuel prometió $36 millones en educación temprana, en tres año,s para agregar programación de aprendizaje temprano a 5,000 niños más de Chicago.
Antes del evento, el Alcalde Emanuel invitó al Presidente Clinton a recorrer el nuevo centro de aprendizaje temprano, establecido para atender a las comunidades de Englewood y New City/Back of the Yards. El Alcalde hizo la invitación por la obra del Presidente Clinton como presidente y a través de su Fundación, enfatizando la importancia de la educación infantil temprana.
La Ciudad de Chicago apoyó la urbanización del Centro de Bienestar y Aprendizaje Temprano de Servicios Familiares para ofrecer aprendizaje temprano de alta calidad y pre-kindergarden el día completo, así como servicios de salud a las familias de Englewood y Back of the Yards. A partir del 2014, todos los centros de aprendizaje temprano de la ciudad requieren que los instructores tengan un diploma de bachiller o uno más alto.
La Ciudad desarrolló un Portal de Aprendizaje Temprano que sirve para ayudar a los padres a encontrar programas, evaluar la calidad del programa y entender la eligibilidad del niño a los programas. Para accesar al portal, visite www.chicagoearlylearning.org, mande por texto su zona postal al 773-886-1819 o llame a la línea de Chicago: Ready to Learn! Al 312-229-1690.