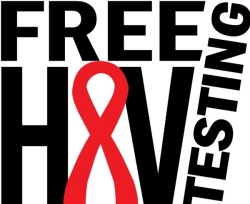 By: Ashmar Mandou
More than 1.1 million people in the U.S. are living with HIV, but one in six does not know they are positive. The Center for Disease and Prevention (CDC) recommends everyone between the ages of 13-64 get tested for HIV. Early diagnosis and treatment improves health and helps prevent the spread of HIV. In the Latino community, HIV infection is a serious threat. According to the CDC it is estimated that new HIV infection rates among Latinos in 2010 in the U.S. was more than three times as high as that of whites.
To help raise awareness Greater Than AIDS has teamed up with Walgreens for National HIV Testing Day on June 27 to encourage people to get tested. "This is our fourth year participating and each year we are happy to be able to provide free testing to our customers," said Christina Guillen, pharmacy manager for Walgreens. "Each year it feels great to be able to provide a service that promotes health and awareness because that's what Walgreens is all about. We want to make sure communities across Chicago are living a healthy life and are in charge of their health."
As part of its commitment to fight HIV/AIDS, Walgreens with Greater Than AIDS have collaborated to help offer free HIV testing. Free testing will be available to the public with no appointment necessary at 27 Walgreens stores in Chicago. HIV testing will take place Thursday, June 26th through Saturday, June 28th. Hours of testing vary from location.
Community pharmacists at Walgreens HIV-specialized pharmacies are specially trained to provide continued support to meet the unique needs of HIV-positive patients. Walgreens HIV-specially trained pharmacists can help patients better manage their health by encouraging patients to take medications as prescribed and providing tips related to coping with barriers to care. For more information and a full list of Walgreens locations, visit www.walgreens.com or www.greaterthan.org/walgreens. Early diagnosis and treatment can improve health, extend life and help to prevent the spread of the disease. In fact, people with HIV who take prescribed medication regularly reduce the risk of transmitting the virus by as much as 96 percent.